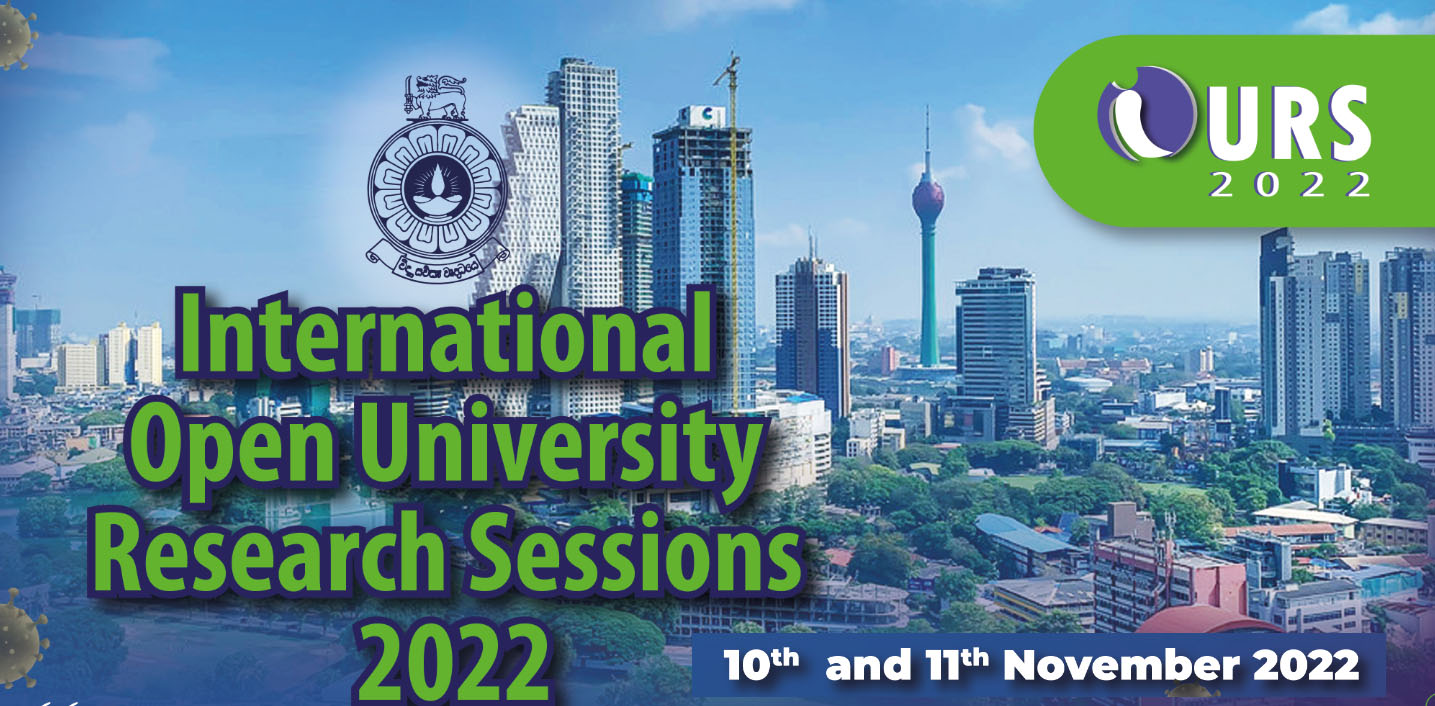 About Us
---
The Open University of Sri Lanka (OUSL) is the only National University which offers a wide range of academic programmes of study through the Open and Distance Learning (ODL) mode.
The flexibility and ease of access of this system has enabled the University to cater to the needs of prospective students from all parts of the country, regardless of their level of formal education, socio-economic background or age. It offers Certificate, Diploma, Degree and Postgraduate Degree programmes in a wide range of disciplines through its five Faculties, namely, Education, Engineering Technology, Health Sciences, Humanities & Social Science and Natural Sciences and the Postgraduate Institute of English (PGIE).
The Open University takes special interest in fostering research and scholarship, and is a pioneer in research in Open and Distance Learning.


About the Event
---
International Open University Research Sessions 2022 (iOURS 2022) will be held on 10th and 11th of November 2022 as a fully online conference. The theme of the conference is "Contemplations towards Next Normal for a Smart Future – Directions and Dimensions".
iOURS offers a unique forum for academics and researchers both within Sri Lanka and overseas to present and discuss their research findings in a wide range of disciplines. There will be four parallel technical sessions and six panel discussions on 10th and 11th November 2022.
The Organizing Committee of iOURS 2022 is pleased to invite academics and researchers to submit their research findings to be presented at the conference.
Session Themes
---
Abstracts can be submitted under the following sub-themes:
Open and Distance Learning
English Language Teaching
Education
Engineering and Technology
Health Sciences
Life Sciences – Biological Sciences, Agriculture, Forestry
Physical Sciences
Environmental Sciences
Humanities and Social Sciences
Management
Law
The important moments captured at the OURS 2019
The important moments captured at the OURS 2020
The important moments captured at the OURS 2021
Important Dates
---
Event Information:
Notification of Acceptance of Abstracts

Once accepted, the corresponding authors will be notified by 30th June 2022. The abstract together with reviewer comments will be made available to the authors.
Contact the Organizers
---
Director Research
Prof Shyama R. Weerakoon
Tel: +94 (11) 288 1510
Email: iours@ou.ac.lk
Feel free to ask a question or simply leave a comment.