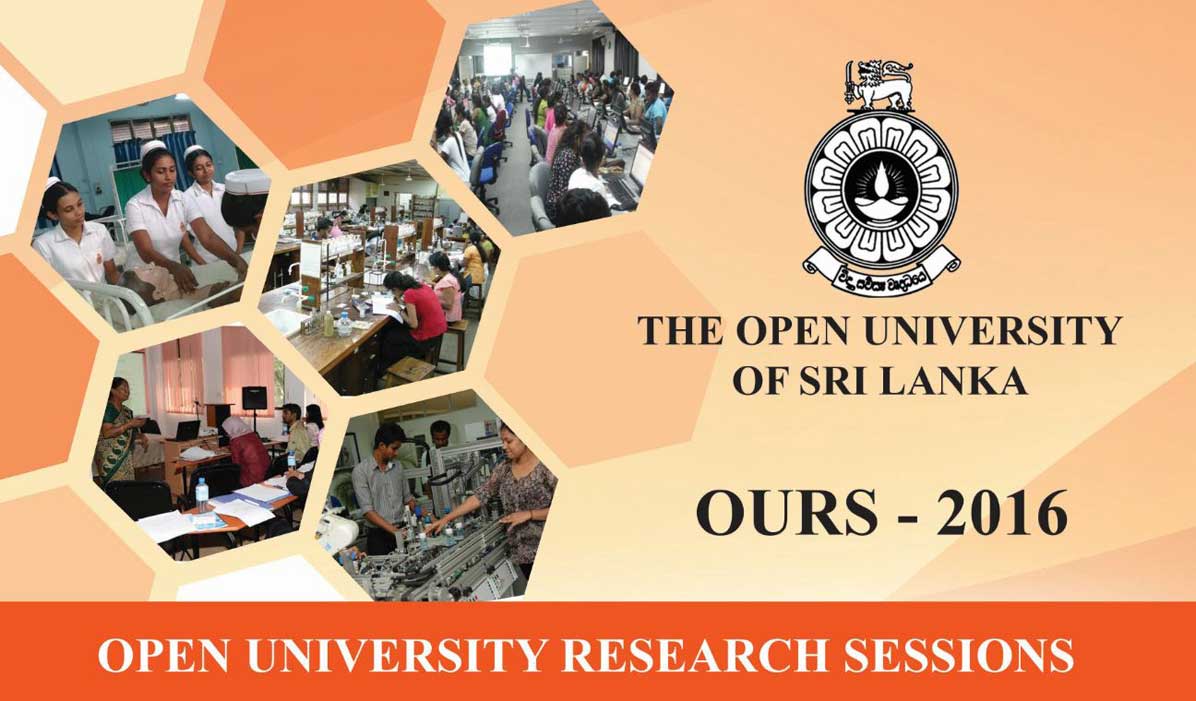 This year 2016 marks the 14th year of Open University Research Sessions (OURS2016) which was previously known as Annual Academic Sessions of the Open University of Sri Lanka since 2003. It was organized by Senate Sub-Committee of OUSL Chaired by Prof. G. M. Kamal Bandara Gunaherath (Chairman, Senate Sub-Committee on OURS2016).
The OURS 2016 was commenced on Thursday 17th November with the inauguration at 9.00 a.m. and continue until 18th November 2016 at the Open University premises. This volume contains the abstracts that were accepted for presentation and publication in the proceedings. In addition to this publication, the authors will be provided with a compact disc containing the extended abstracts accepted for presentation.
Chancellor of OUSL, Prof. Colvin Goonaratna is gracing this occasion as our Chief Guest. We are indeed happy and honoured by his presence.
Prof. Lakshman Jayatilake, Chairman, National Education Commission of Sri Lanka and Prof. Arjuna Parakrama, Senior Professor of English, University of Peradeniya have delivered key note addresses at these sessions. The two invited papers were presented by Prof. W.A.J.M. De Costa, Senior Professor and Chair of Crop Science, Faculty of Agriculture, University of Peradeniya and Dr. M.K. Meegahakumbura, Geneticist and Plant Breeder, Coconut Research Institute (CRI) Sri Lanka. Our thanks are due to both invited speakers for the interest shown in sharing the outcome of their research work
with OURS.
The Conference Committee received 58 abstracts and extended abstracts for review while 42 abstracts were selected after going through a rigorous peer review process on the basis of originality, significance, and clarity for the purpose of the conference.
The abstracts received cover a wide range of scientific disciplines. Among them are Distance Education, Pure and Applied Sciences, Management, Social Sciences, Law, Education, Engineering, Health Sciences, Computer Science and Agriculture.
One of the special features in OURS 2016 is the inclusion of two invited papers relevant to current issues. Two key note-speakers will also speak on a given subject in a plenary session on both days of Research Sessions. The rest of the presentations have been categorised into 09 areas of which 08 sessions will be held as parallel sessions. Overall, the presentations represent an impressive diversity and depth.
This year too we were able to issue a conference bag to authors who have registered for the sessions. This would not have been possible without the generous support of CIC Agri Business Pvt. Ltd. Our special thanks go to Dr. Keerthi Kotagama, CEO in this regard. I also wish to record our thanks to the Vice Chancellor Prof. S. A. Ariadurai for his support in carrying out our work to make this event a success.
Prof. G. M. Kamal B. Gunaherath
Senior Professor of Chemistry and Deputy Vice Chancellor
Chairman, Senate Sub-Committee on Open University Research Sessions 2016