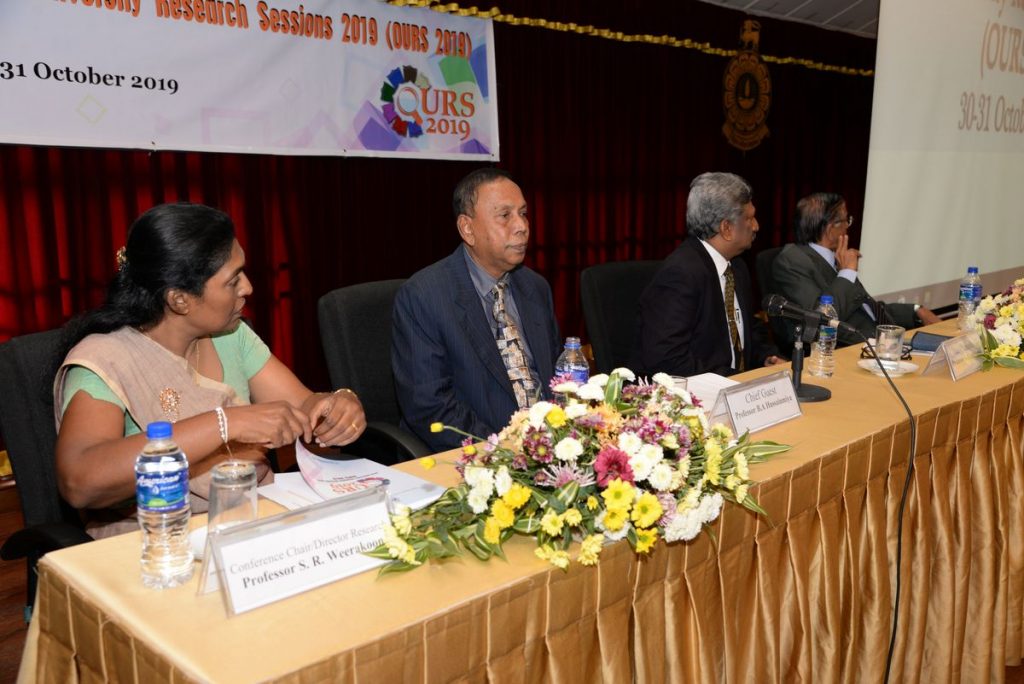 30th– 31st October 2019
Open University Research Sessions in 2019 (OURS 2019) was organized by the Senate Sub-Committee for OURS 2019 chaired by Prof. S.R. Weerakoon, the Chairperson of the Senate Sub-Committee and the Director/ Research.
The Chief Guest for the inaugural sessions was Prof. B.A Hussainmiya, Professor in History who delivered the key note address while the Guest of Honor was Prof. Colvin Goonaratna, the Chancellor, Open University of Sri Lanka. The activities of OURS 2019 commenced on the 30th October 2019 with the inauguration at 9.00 a.m. in the Conference Hall of OUSL. The presentation on "Challenges and Prospects for Higher Education for all" by Prof. B.A Hussainmiya was well received by the audience. Prof. Suresh Canagarajah presented a keynote speech on "Writing on the Wall: Limits of Identity Politics and Multiculturalism" and Dr. Ruwan Ferdinando presented a keynote speech on "From advising towards empathizing: Improving communication skills of health professionals" Both presentations were also well received by the audience.
For oral presentation in the Conference, 142 abstracts/extended abstracts were received for review of which 81 were selected following a rigorous peer review process based on originality of work, significance to contemporary society and clarity for the purpose of the Conference. Important outcome of the Conference is the publication of Book of abstracts that were accepted for presentation and publication in the proceedings.
The abstracts covered a wide range of academic and scientific disciplines. Among them are Open and Distance Learning, Agriculture, Biological Sciences, English Language Teaching, Education, Engineering and Technology, Health Sciences, Humanities and Social Sciences, Law, Management and Physical Sciences.